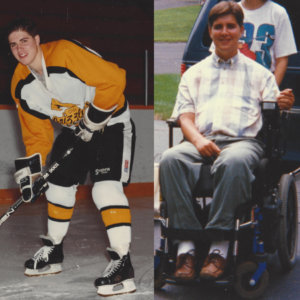 Too many Canadians have had their lives permanently changed because of gun violence.
I'm one of them. At the age of 21, I was shot in the neck in a random act of gun violence and became a C5 quadriplegic.
Too often, politicians react to gun violence with "thoughts and prayers". Well, pardon my french, but that's a load of crap.
Thoughts and prayers will do absolutely zero to prevent the next shooting that permanently changes the life of another Canadian.
We're taking action.
In four years, our Liberal government has taken real action to stem gun violence.
Implementing more thorough background checks.
Increasing resources at the border to crack down on gun smuggling.
Funding programs that help keep kids off the street.
And that's just the beginning.
A re-elected Liberal team will continue to take serious, common-sense action to strengthen gun control and crack down on gun crime.
Banning military-style assault rifles, including the AR-15 – weapons with only one purpose: mass human death.
Giving mayors and premiers the ability to further restrict – even ban – handguns.
Working to prevent gender-based and domestic violence.
Strengthening safe-storage laws.
Changing the way guns are advertised, marketed, and sold in Canada.
Just as important as what we will do. Here's what we won't do – we will not bring back the long-gun registry. Despite what the Conservatives and their spin-machines want you to believe.
Let's cut to the chase. No one needs a military-style assault rifle. Background checks and safe storage laws are just common sense. Protecting vulnerable groups is the right thing to do.
A gun changed my life 28 years ago. I am working hard – and support the actions of my Liberal colleagues – to make sure a gun doesn't change the life of anyone else.
Sign up to receive more updates like this.